I remember the last Presidents gig at the Oldfields Hotel in Greenford, in late summer 1965. I was the only original member left and after playing at the Oldfields more times than I can remember it was definitely time to knock it on the head. Over the years we had never had the courage or ability to create our very own brand of music and despite being a brilliant covers band were now only destined to play weddings and parties. We had missed the boat but had a lot of fun along the way.

I emmigrated to South Africa but before leaving became engaged to Mardy (Margaret) Hibberd, who had been my girlfriend and devoted fan for about a year. In Cape Town I ran a delivery service with my sister and brother-in-law, my father having died shortly after we arrived. A year later I sold my cherished Gibson SG Special to an employee, to help raise money for a trip back to the UK, to get married

Returning to Cape Town as a couple, Mardy got a job and I carried on working for a year or so but then, due mainly to the apartheid way of life, we decided to return to England. Here I began a career in sales – first with Joe Lyons and then with pharmaceutical company Abbott Laboratories. Mardy's dad, Len, the most generous person you could ever hope to meet, bought us a small house in Cheam, Surrey, which really started us off.

The call of the sun came again in 1970, and with our first son Ben we rented our lovely little house, and bought a lease on a bar in Ibiza. One year later, when the glamour of this dream had passed, we sold the lease and came home again, jobless. Corruption and the way the Spanish police treated us was a "bit naughty" to say the least... every day two or three of them would come to bar expecting the drinks to be wheeled out.

After our return I spent a bit of time helping an old friend, Nicky Graham, and his band. Presidents' drummer Eddy Patterson had been doing a few gigs with them but had passed up the job when they took an option to work in Spain. They were called 'The End' and later became 'Tucky Buzzard'. Produced by Bill Wyman of the Rolling Stones they eventually signed with Tony Defries, the emerging David Bowie manager. I became their sound engineer and roadie.

One night back in London, Tucky Buzzard played support for a "pre-Ziggy" David Bowie. Our set was great but David's was badly affected by poor sound so after the show Angie Bowie asked me to talk to David. He was amazed that he could hear all our set in detail even though the volume was so high and asked me to do a rehearsal with him and his new band "The Spiders from Mars". We did the rehearsal at Beckenham Rugby club and all went so well that I ended up being his front-of-house sound engineer for the next two years until he left to live in the US (There's more about this exciting period of my life at www.5years.com/robinmayhew.htm). Needless to say it was a fantastic experience which led me to work consistently with Lou Reed, David Essex, Russ Ballard, Mott the Hoople, John Miles, The Stranglers, The Clash, The (underrated) Vibrators, Debby Harry and many other stars of the 70's.
| | | |
| --- | --- | --- |
| | | |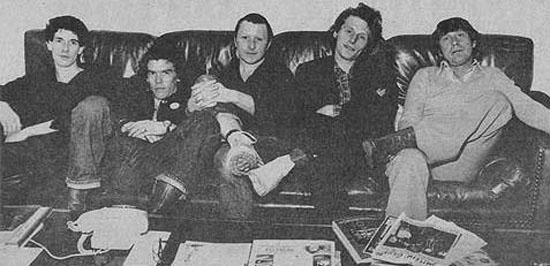 The Vibrators during recording of their album 'Pure Mania' (Left to right: Knox, Eddie Edwards, John Ellis, Pat Collier, me). The band signed to Epic Records in early 1977. Their debut album, 'Pure Mania' was co-produced by Robin Mayhew, sound engineer for David Bowie's Ziggy Stardust live shows and reached the Top 50 on the UK Albums Chart. The album is well regarded by some music critics and, 17 years after its release, The Guinness Encyclopedia of Popular Music named 'Pure Mania' one of the 50 best punk albums of all time.

Our second son Olly was born on 27th May, 1972, at Epsom district hospital on the day Ziggy played Ebbisham Hall, in Epsom. I left immediately after the show to see him born at 11.10 pm. Angie and David sent flowers. During this period I formed a successful PA rental company called 'Ground Control', supplying amplification equipment to various artists.

r

I foolishly stepped away from the music industry for a second time in 1982 as I was getting a bit long in tooth for going off on long tours. I joined Mardy running a gifts and home ideas shop called "Not Only but Also", in Cobham, Surrey, which she had opened with her brother Len's fiancé,Sally Dean. We did this for two years and then in 1984, sold our house, the business and the property we had bought, to buy a small country hotel called Tighnuilt (pronounced Tay-nault) House, in the Scottish Borders.
| | | |
| --- | --- | --- |
| | | Tighnuilt House (aka "Fawlty Towers" among our friends) in the beautiful Scottish Borders, where for four years we operated a hotel business. |
We ran the hotel for four years but there were never really enough visitors to make it pay. However it was a fantastic house and all our friends would come and stay at New Year or just come and holiday with us. We all had a lot of fun with clay-pigeon shooting and sampling lots of different malts but as we weren't making any money we decided to change direction yet again. We sold Tighnuilt at a good profit and bought a small estate called Old Redhead near the village of Clovenfords, then went to Cape Town for a long holiday.
| | | |
| --- | --- | --- |
| | | Old Redhead, where we lived from 1988 to 1992, is reputed to have the best view in Selkirkshire. |
When we returned we went into fashion retail, taking on a franchise with "Clothesline", a Glasgow-based company.. Then, in 1992 – after losing just about everything in what was exposed (on Ester Ransom's TV programme "That's Life") as a massive scam – we had to start over yet again.
I gladly accepted an offer from an old school chum, Paul Waby, to help him launch and market an industrial wall-lining product. Mardy and I eventually returned to the South of England in 1997, to be nearer the business HQ. Ben, our oldest son, had moved down some time prior but Olly stayed on in the Borders after graduating from university with a degree in computing. When the BSE outbreak happened in 1996/97, just as we had settled, the wall-lining market was dramatically hit and I was made redundant. Since then I have been self-employed, marketing various innovative products, without much success but getting by. I also for some years ran a courier business delivering parcels for a wide range of clients. It was good but 6 days a week did become a drag and I really wanted to try and write music so after 9 years, knocked it on the head.
Ben married his long time fiancée, Holly, in July 1999, and they now live in Billingshurst with their two children, Isobel, who was born in 2000, and Harry born 2002 (Mardy's and my first grandchildren).
| | | |
| --- | --- | --- |
| | | Our first grandchildren, Harry and Isobel, in 2008 |
Ben has since gone into his own business and has called the company Ground Control Marquees Ltd. (www.groundcontrolmarquees.co.uk), named after my rental company of the 1970s. Number two son, Olly, married Angie in 2001. They met and fell in love in Scotland and have since moved down to join us in West Sussex, living in Chichester. He is a highly regarded IT consultant and a great motocross rider (http://www.rsrmx.co.uk/) with a room full of trophies to prove it.

Since giving up my courier business I have bought a huge luxury portable loo trailer-unit which is great because Ben's marquee company is always hiring them for weddings and similar events. It seemed logical to grab this business opportunity which certainly helps supplement the pension! I've called the new business 'Wsee' (The Luxury Loo that comes to you). You can see details at www.wsee.co.uk.
I have rekindled my musical abilities and now write and home-record. If only I'd written these basic songs back in the early sixties as things might have been very different! In July 1999, I teamed up with Martin Johnson and his band 'Cadillac' to play the Swanage Festival – it was fantastic – so maybe things will come full circle.

Our cottage here in Barnham, West Sussex, has been the venue for several reunions of The Presidents (see the Gallery page). Martin Cowtan, who lives now in Perth Australia, and I have collaborated on some ideas, one of which, 'Tighnuilt', named it after our happy house in Scotland, can be heard on the Sound Bites page. It's not R 'n' R but quite stirring I feel.

I still don't think you can beat a good Rock 'n' Roll song but some of my favourite music tastes today are the late Stevie Ray Vaughan, Steely Dan, The Eagles, and some of Prince's stuff. I just love Hold On by Wilson Phillips, whose lead singer is Chynna Phillips, daughter of John and Michelle Phillips of Mamas and Papas fame, and Carnie and Wendy Wilson, daughters of Beach Boys' Brian Wilson. Check it out at http://www.youtube.com/watch?v=uIbXvaE39wM. I also enjoyed some 80s sounds by bands such as Spandau Ballet, Duran Duran, Level 42 and ABC.

I've become a bit of a slave to YouTube but have to confess that I find most modern pop music very boring! One of my favourite tracks of all time, though, has to be Knowing Me Knowing You by ABBA. The mood and the production are just brilliant. I just love a song that has a message and I'm very proud of the song I wrote, entitled Together - A Song for Isobel. Please look and listen to it at http://www.youtube.com/watch?v=bqBK9VBOAg0 then pass it on.

For details of my ongoing musical projects and other madness, please visit www.robinmayhew.co.uk

RM 8/02/2013