Though not a true founding member of the band, Robin Mayhew and I were singing together back in 1958, covering songs mostly by the Everley Brothers. He had the guitar I played a bit of piano and together we sounded pretty good. I came into the band when it was called Jeff Bond and the Presidents late in 1960, I think, and we played good old rock 'n' roll in Epsom, London and Sutton, though I had done a few odd gigs prior to this as the band was forming.
I had joined the RAF in 1960 and can remember hitching to London and the home counties from Huntingdon, to do gigs and recording sessions with the band and Glyn Johns. It was difficult to do and ultimately, as I was posted to different areas, it was impossible to carry on and Ricky Tyrrell joined in my place.
So having left The Presidents and finding myself with postings in the UK and Germany, I formed two bands; 'The Midnighters' and 'The Ravens'.
I came out of the air force in 1965, married and with a baby daughter but the marriage did not last.
I became resident in Swanage, which had been our regular place to go in the old days. I settled down and found work as rep. and became involved with the theatre.
During 1965 and 1967, I came back up to Surrey and moved into a flat in Kingston Hill with an old friend, Dave Granger. We worked together at ABC/Thames Television in Teddington, spending most of the time out on location. We worked with many famous artists and often partied in London after shoots. To say the least, these events were often wild and I really enjoyed the experience! Due to changes at Thames I was eventually made redundant and moved back to Swanage.
In 1971, I joined a professional band, 'The Sidewinders', and toured the UK and Europe for the next four years playing country rock. The band got a good name and the gigs came in fast and furious. We did our last tour in 1975 in Germany, and I stayed there. I married a blond German lady named Ingrid and had another baby girl, Melaine. During this time I worked with the American Air Force, played piano and sang. I met a sax player and together worked some of the bars which was good fun.
My marriage broke down and I came back to the UK and bought a house in Swanage. I started work as a sales manager with Rover cars and at the same time formed The Martin Johnson Band. The band was made up of ex-professional musicians from London and Dorset and I have been playing ever since. There have been two name changes: firstly Mississippi, and now Cadillac R&B. We have just done a mini-tour through Brittany and are invited again for next year 2001.
In 1999 Robin made contact with me again. We hadn't seen each other since 1963. Cadillac were booked to play the Swanage Festival and I needed a second guitarist. Robin said he still played so I sent him a set list and on our first face-to-face meeting in 36 years, did the gig. It was great. Paul Waby, one of my oldest schoolmates, came with Robin and I think a major reunion is called for.

I have recently changed the name of the band to The Martin Johnson Rock and Blues Band and the new, slightly changed, line-up will hopefully be opening the Swanage Carnival for the next few years. Also my long time plan and dream of starting a sort of workshop for young musicians who I might be able to help with singing and other aspects of music seems to be getting closer so fingers crossed for the next year.

My life has never been boring and I have always enjoyed playing music. Music, wine, women and song, what more could you ask for. I have been nicknamed 'Rockgod' by the boys down here but I had to switched it round and now my e-mail is: mjgodrock@yahoo.co.uk

The following article appeared in the Swanage & Wareham Advertiser's September 19, 2013 edition following an interview I gave about my background and the Swanage Blues Festival: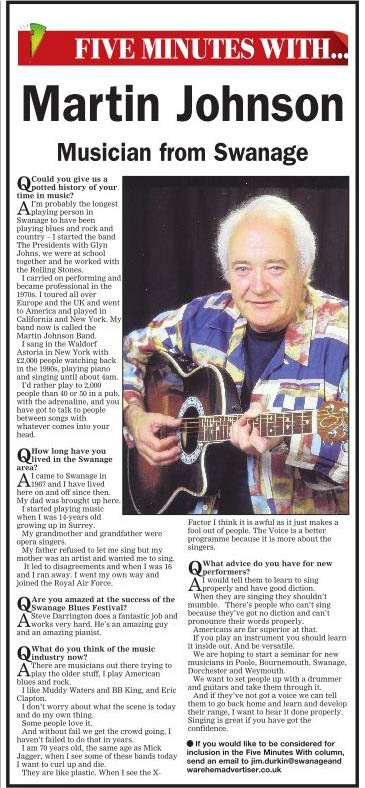 M.J. September /2013