A brief outline of what I've been up to these last 35 years:
When the Presidents "folded" in summer 1965, it dawned on me that my other career at County Hall, Kingston, was going nowhere. I applied for, and got, the job as an assistant in the Weights & Measures Office at Epsom, starting there in Dec 65.
At the same time I was doing a few gigs with 'The End', backing Billie Davis. They asked me to go to Spain but I turned it down - a decision I always will regret.
In December 1966, I was a passenger in my mate's Mini Cooper S, which he managed to roll over into a ditch. I ended up with a broken collarbone and 13 rib fractures.
I qualified as an Inspector of Weights & Measures (they call us Trading Standards Officers these days) in 1968, went to work for Croydon Borough for a while and came back to Surrey in 1970, where I've been ever since. I'll have done 40 years in local government in September this year, so could retire at any time.
For the past 10 - 12 years I've been in the Food Team, and act as the contact for all Surrey-based food companies on all matters relating to the composition and labelling of food. (Birds Eye Walls, Dairy Crest, Del Monte, McVitie's, Kerry Foods, Allied Bakeries etc., plus numerous smaller importers/ manufacturers). At the moment there's no-one with sufficient knowledge and experience to take over from me, so if I do retire, it's possible they may ask me back part-time, which would suit me down to the ground.
In 1974 I got married to Wendy who already had a daughter by her first marriage. Zoe is now 27, married to Darren, a builder, and expecting their first child early June. They live in Ottershaw, a couple of miles away. My son, Steven, was born in '75.(He always was, and still is, a big lad) He's now Ramp Supervisor for Air France, at Heathrow.
After several years gradually drifting apart, Wendy and I separated in '97, and the divorce was made absolute in May '99. I have to say I am quite content. The divorce settlement didn't exactly leave me wealthy but I am "comfortable". I had to go into hospital last July for cellulitis - an infection under the skin - one leg swelled up like a balloon. The doctor said a few days on intravenous antibiotics should soon sort it but it was the best part of 3 weeks before I was allowed out, by which time I was almost weaned off fags. I've been "smoke-free" since, though I still get the urge from time to time. I've put on a little weight since then, but I'm still nowhere near obese - about 12 st. 7lb. (you can't convert old dogs like me to metric, even though it's part of my job).
I lost my father through stomach cancer in 1989. My mother's now 94, somewhat fragile but still "hanging on by her fingertips".
I can't say that I'm much of a fan of today's music scene, though the odd record does occasionally sound OK. Tom Jones's "Mama Told Me Not to Come" is alright but it's a straight rip-off from 3 Dog Night. I still like the early days of Motown and Funk, as well as Tina Turner, Joe Cocker, Billy Ocean,and in particular, Huey Lewis. But I also enjoy 1950s modern jazz (Chico Hamilton, Gerry Mulligan, Chet Baker, Charlie Parker etc.) as well as Chris Barber (whether in his Trad style or blues band).
I drive a Vauxhall Calibra these days - it's quite fast enough for me. I'm still an impatient and intolerant driver and my bad language has not improved over the years.
E.P. 2000
Robin asked us to update our biographies and it doesn't seem possible that I wrote all my first over 8 years ago. The granddaughter I was then expecting will be 9 in June 09, and her sister will be 5 in May. Charlotte (Lola) and Madison (Maddie) are the loves of my life!! Two little angels who swim like fishes (pic attached of them 2 years ago).
When you read the "family tree" in the Band Biography you don't get the full picture of the relationships between the various band members. I met Martin at school and we started up a band in the late 50s, and we've stayed mates all these years. Even earlier than that, I lived two doors away from Keith Sutton (who went on to become the bass player for Del Grant & The Roamers - a band that Martin played with for a while). It was through Keith that I met Colin Golding. Colin and I also had a mutual interest in cycling and he was influential in widening my musical interests.
Obviously, you then get to know quite well the players in each other's bands.
In 1960-62, I was playing with The Classics but took over from Phil as drummer for the Presidents after he broke his wrist. Those with long memories might also remember me filling in on rhythm guitar at Bermondsey on one occasion!
I sort-of retired in April 2001 but did a further 4 years working part-time - which was a lovely way to let go gradually rather than come to a complete stop. Over the years I've mastered most DIY skills to a reasonable degree, including plumbing and electrics. I'm often called upon to repair the grandkids' toys or make them hedgehog houses, which I'm happy to do, as I have a good selection of power tools including a table saw. I've also helped son-in-law Darren from time to time, on some of his building projects.
After many years of complaining that she shouldn't be here, my mother eventually got her wish and died in July 2001, at the ripe old age of 95. My son, Steven, married in 2003 but there's no sign yet of any further grandchildren.
Healthwise I've been fairly lucky although the 12 stone 7 lb which I mentioned previously is a distant memory - I've put on more than a few pounds since then! But at least I'm still not smoking. In late 2004 I was diagnosed with testicular cancer but the removal of one has completely sorted the problem. No after-effects and no chemotherapy was required, thank goodness.
The comments I made previously about my bad language still hold good, unfortunately, although I am slightly less impatient and intolerant when driving. After the Calibra came a BMW 3 series but for the past 4 years I've been driving a Jeep Cherokee (2.8 litre diesel automatic) and I wouldn't swap it for anything. There's many a time I feel like the "Grumpy Old Men" in that TV programme - one of the things that really bugs me are people who cannot clap in time or, if they do, they clap on the on-beat. (Perhaps that's a common problem for ex-drummers)
Some of the band members may remember my mate, Robin (Bill) Bean, who worked with me at County Hall and used to accompany me to some of our gigs. Bill and I were more like brothers than just mates. He emigrated to New Zealand in 1966 and we've kept in touch ever since. I also regularly visited his Mum in Tolworth, Surrey. He's been back over a couple of times and we're still like two daft kids when we're together. In early 2006 I went to visit him in NZ and stayed about a month. What a fabulous country!
My visit to Billy Bean and his wife in New Zealand in 2006.

Left: With my granddaughters Lola and Maddie. Oct. 06

Right: With my "little boy" Steve. Oct.06
I also took the opportunity to fly over to see a cousin in Australia who, coincidentally, lives in Patterson Lakes outside Melbourne. Sadly Bill's Mum died in late 2006 and he had to fly back for the funeral. I'm hoping to go out to NZ again soon.
April 2006 was the occasion of Rob's 40th wedding anniversary and it was so nice to meet up again with some old faces (and I do mean old). I'd not seen Colin for many years but his wife Diane didn't seem to have aged at all, ditto Rob's wife, Mardy.
Whenever Martin comes over from Australia we meet up and visit Rob & Mardy. Sometimes Arch and Buss also attend, to complete the reunion, the last being in September 08, when we had the opportunity and pleasure of hearing Buss playing with Simply Shadows.
Rob has been beavering away and somehow managed to get Candy man played on Radio 2's "Sounds of the 60s" on 08/11/08, when Brian Matthew related the sorry tale about Decca handing the song to Brian Poole. His comment, "...No doubt the Presidents must feel aggrieved about what might have happened to them…..had they not been shabbily treated by someone unspecified at Decca", sums up what most of us have thought over the years. But what a treat to hear it actually played on the radio - an amazing experience!!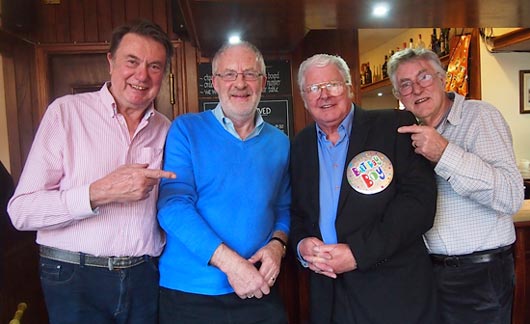 Another happy reunion on Ed's 70th birthday bash in the Cricketers Public House in Rowtown, Addlestone, giving the other Presidents a chance to meet the family and reminisce .
I'm still single, still living in Addlestone, and still enjoy listening to my favourite music - usually at volume! If anyone wants to get in touch, send me an email.
E.P. Apr 2012